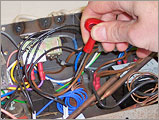 Part of the service we offer is to help and assist you in supply and installation of all your heating and plumbing requirements. We have a collective database of qualified and trained heating engineers throughout the UK.
Our technical help line is available 9am to 5pm Mon to Fri to provide and assist with any queries / technical advice.
For copies of any manuals or specification sheets, please contact our main sales line who will willingly send you a manual at a small fee.